Backed by the non-stick, non-toxic power of our 100% platinum-cured silicone, our newest bundles take your culinary feats to the next level with all the versatile, virtually indestructible tools that are foundational to a brilliant kitchen experience. These are our only sets to feature the top-rated Turner and Quad Chopper alongside the world's best-reviewed Spatula.
🔹 Free Extended Returns & Free Shipping over $35
Dishwasher Safe

Antimicrobial

Non-toxic
Unibody Design

Heat-resistant to 550°F

Platinum-grade Silicone
Details

Who Is a Home Chef Set for?
We designed these sets to help chefs of any level, experience, or style stock their kitchens with all the tools needed for culinary success. Whether you're learning to cook, whipping up a quick midweek meal, or preparing a professional 5-course dinner, you'll reap the benefits of the unique unibody design, platinum-cured silicone, and proprietary fiberglass core that set our tools apart.

Benefits of a Home Chef Set
- Curated: We carefully selected each tool to guarantee you're cooking with the very best tools used by culinary experts, home chefs, and us!
- Comprehensive: From mashing and chopping to scooping, mixing, serving, and spreading, you'll have the right tool for every kitchen task.
- Quality: Superior 100% platinum-cured, pharmaceutical-grade silicone ensures near-indestructible longevity and durability, reinforced by a sturdy fiberglass core that won't bend or snap under pressure.
- Savings: Each set is a cost-effective way to start or complete your collection of top-rated kitchen tools. Save 20% on bestsellers with these bundles.

Benefits of GIR Silicone
- Unibody Design: We originated this unique construction without seams or joints for tools as elegant as they are sturdy.
- Antimicrobial: The seamless design makes our tools easy to clean and prevents the buildup of bacteria, microbes, and food debris, for a safer, cleaner experience.
- Platinum-cured: This process uses pure platinum, not peroxide, to cure the material and doesn't create any peroxide by-products, resulting in a cleaner product superior to food-grade silicone, which is often peroxide-cured.
- Non-toxic: Unlike plastic, silicone is free from chemicals, toxins, heavy metals, sulfates, phthalates, and BPA & BPS. We use the best curing process to keep it that way.
- Heat-resistant: You can safely expose our silicone to temperatures up to 464°F for as long as you like, or intermittently to 550°F, without damage, making our tools dishwasher, oven, fridge/freezer, and stove-top safe.
- Materials: 100% platinum-cured, pharmaceutical-grade silicone; fiberglass core.

Includes all tools in Mint:
Quad Chopper (12.4" L x 4" W x 4" D)
Ultimate Spoonula (11.1"L x 2.5"W)
Mini Spoonula (8.3"L x 1.8"W)
Ultimate Turner (13.4" L x 3.3" W)
Ultimate Spatula (11.0 in L x 1.9 in W)
Mini Spoon (8.3 in L x 1.7 in W)
Skinny Spoonula (8.3"L x 1.8"W)
Spaghetti Spoon (13.3" L x 2.8" W x 1.0" H)
Ultimate Ladle (9" L handle x 4.3" diameter, 12.3" in total length)
Ultimate Spoon (13.5 in L x 2.6 in W)


Use & Care

Dishwasher safe
Stain, odor, and microbe resistant
Heat resistant to 550°F
Shipping & Returns

Extended Holiday Return Policy: If you make a purchase between November 1 and December 31, you have until January 31, 2024 to make a return or exchange.
We ship to the 48 contiguous U.S. states. We're not currently able to ship to Alaska, Hawaii, or internationally.
We offer free standard shipping on orders over $35 with a 30 day free return/exchange policy!
Orders usually take 1-2 business days to process in our warehouse, and shipping time will vary depending on shipping address and speed, but in general should take 2-7 business days.


A Size for Every Recipe
Whatever recipe you're making, our best-selling Spatulas will help you get it just right. The Ultimate is your go-to for mixing in bowls and pots, the Skinny is perfect for maneuvering tall, thin jars, and the Mini is made for scooping hard to reach corners or frosting sweet treats.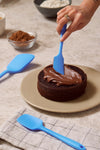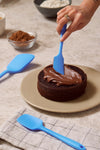 Your Best Friend in the Kitchen
With durable, easy-to-clean, BPA & BPS-free kitchen tools by your side, you'll be the home chef that gets it right—every time.
Why you'll love GIR in your kitchen
Durable materials to make a difference in the kitchen
Dishwasher safe and easy to clean
Fun colors and patterns add a flavorful flair
Free Returns & Free Shipping Over $35
Over 2,000 5-star reviews from pros and home cooks
Durable materials to make a difference in the kitchen
Dishwasher safe and easy to clean
Fun colors and patterns add a flavorful flair
Free Returns & Free Shipping Over $35
Over 2,000 5-star reviews from pros and home cooks