Are your soups, sauces, and pancake batter looking for a soulmate? You've found it—the ladle, perfected. Designed with a precision pouring edge that won't spill a drop and a flexible, yet sturdy silicone bowl which scoops hard-to-reach corners.

Final Sale. Price as marked.
🔹 Free Extended Returns & Free Shipping over $35
Dishwasher Safe

Non-toxic

Antimicrobial
Unibody Design

Heat-resistant to 550°F

Platinum-grade Silicone
Details

The Skinny Ladle puts all the groundbreaking features of our Ultimate Ladle into a smaller size that's great for kids, saucepans, vinaigrettes, and canning.

• Its flexible, squeezable bowl goes into the hardest-to-reach edges of any pot.
• Precision pouring edge that won't spill a drop, with a handle set at the ideal 45-degree angle for ergonomic use.
• It's also a measuring cup and holds 4 tbsp (50ml) of liquid with imperial and metric measurements embossed in easy-to-read text.
• Made to last forever in your kitchen, BPA, BPS, and phthalate free
• Dimensions: 10.5in L x 2.6in W x 3.0in H
Use & Care

Dishwasher safe
Stain, odor, and microbe resistant
Heat resistant to 550°F
Shipping & Returns

Extended Holiday Return Policy: If you make a purchase between November 1 and December 31, you have until January 31, 2024 to make a return or exchange.
We ship to the 48 contiguous U.S. states. We're not currently able to ship to Alaska, Hawaii, or internationally.
We offer free standard shipping on orders over $35 with a 30 day free return/exchange policy!
Orders usually take 1-2 business days to process in our warehouse, and shipping time will vary depending on shipping address and speed, but in general should take 2-7 business days.
Items marked Final Sale cannot be returned. Please see return policy for more information.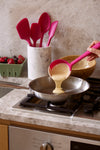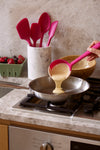 Your Secret Weapon in the Kitchen
The Ladle comes with a deep bowl and embossed lines to help measure liquid ingredients. It's perfect for getting just the right amount of batter or soup so you can ensure uniformity.
Why you'll love GIR in your kitchen
Durable materials to make a difference in the kitchen
Dishwasher safe and easy to clean
Fun colors and patterns add a flavorful flair
Free Returns & Free Shipping Over $35
Over 2,000 5-star reviews from pros and home cooks
Durable materials to make a difference in the kitchen
Dishwasher safe and easy to clean
Fun colors and patterns add a flavorful flair
Free Returns & Free Shipping Over $35
Over 2,000 5-star reviews from pros and home cooks