Perfect for last-minute gifts or that person who's impossible to shop for—digital gift cards for GIR are here.
🔹 Free Extended Returns & Free Shipping over $35
Dishwasher Safe

Antimicrobial

Non-toxic
Unibody Design

Heat-resistant to 550°F

Platinum-grade Silicone
Details

Reheat or steam food in the microwave/stove, bake with them in the oven - heat resistant to 550°F
These lids create a strong airtight suction seal on any smooth, flat surface—glass, stainless steel, aluminum, plastic, Pyrex, and more
Unibody design has no holes or seams, making it super hygienic and easy to clean
BPA, BPS, and phthalate-free

10-Piece Set includes:

4x 4", 2x 6", 2x 8", 1x 10", and 1x 12.5" lids
Use & Care

Dishwasher safe
Stain, odor, and microbe resistant
Heat resistant to 550°F
Shipping & Returns

Extended Holiday Return Policy: If you make a purchase between November 1 and December 31, you have until January 31, 2024 to make a return or exchange.
We ship to the 48 contiguous U.S. states. We're not currently able to ship to Alaska, Hawaii, or internationally.
We offer free standard shipping on orders over $35 with a 30 day free return/exchange policy!
Orders usually take 1-2 business days to process in our warehouse, and shipping time will vary depending on shipping address and speed, but in general should take 2-7 business days.


A Size for Every Recipe
Whatever recipe you're making, our best-selling Spatulas will help you get it just right. The Ultimate is your go-to for mixing in bowls and pots, the Skinny is perfect for maneuvering tall, thin jars, and the Mini is made for scooping hard to reach corners or frosting sweet treats.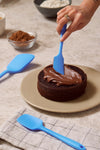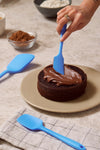 Your Best Friend in the Kitchen
With durable, easy-to-clean, BPA & BPS-free kitchen tools by your side, you'll be the home chef that gets it right—every time.
Why you'll love GIR in your kitchen
Durable materials to make a difference in the kitchen
Dishwasher safe and easy to clean
Fun colors and patterns add a flavorful flair
Free Returns & Free Shipping Over $35
Over 2,000 5-star reviews from pros and home cooks
Durable materials to make a difference in the kitchen
Dishwasher safe and easy to clean
Fun colors and patterns add a flavorful flair
Free Returns & Free Shipping Over $35
Over 2,000 5-star reviews from pros and home cooks