The strong and sturdy Turner lifts, flips, and serves hefty foods and big meals that regular serving utensils can't handle.
🔹 Free Extended Returns & Free Shipping over $35
Dishwasher Safe

Antimicrobial

Non-toxic
Unibody Design

Heat-resistant to 550°F

Platinum-grade Silicone
Details

With a sturdy fiberglass core and strong, straight, slightly flexible edge, the Ultimate Turner flips, scrapes, and transfers heavy food items like burgers, lasagna, and enchiladas. Its ambidextrous unibody design makes it the ultimate partner for left- and right-handed cooks.
Best for: BBQs & cookouts, lasagna, enchiladas, layered casseroles, pancake stacks.

- 100% platinum-cured, pharmaceutical grade silicone
- BPA- and BPS-free
- Dishwasher-safe
- Stain, odor, and microbe resistant
- Heat-resistant to 550F
- Dimensions: 13.4" L x 3.3" W
Use & Care

Dishwasher safe
Stain, odor, and microbe resistant
Heat resistant to 550°F
Uses: Cook eggs, your way + all fresh pan bakes
Shipping & Returns

Extended Holiday Return Policy: If you make a purchase between November 1 and December 31, you have until January 31, 2024 to make a return or exchange.
We ship to the 48 contiguous U.S. states. We're not currently able to ship to Alaska, Hawaii, or internationally.
We offer free standard shipping on orders over $35 with a 30 day free return/exchange policy!
Orders usually take 1-2 business days to process in our warehouse, and shipping time will vary depending on shipping address and speed, but in general should take 2-7 business days.
Items marked Final Sale cannot be returned. Please see return policy for more information.


A Size for Every Recipe
Whatever recipe you're making, our premium silicone Flip spatulas are sturdy and flexible for all stovetop needs. The Ultimate is great for big-deal meals like pancakes, while the Mini is great for small hamburger sliders.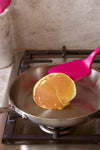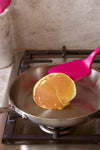 Your Best Friend in the Kitchen
With durable, easy-to-clean, BPA & BPS-free kitchen tools by your side, you'll be the home chef that gets it right—every time.
Why you'll love GIR in your kitchen
Durable materials to make a difference in the kitchen
Dishwasher safe and easy to clean
Fun colors and patterns add a flavorful flair
Free Returns & Free Shipping Over $35
Over 2,000 5-star reviews from pros and home cooks
Durable materials to make a difference in the kitchen
Dishwasher safe and easy to clean
Fun colors and patterns add a flavorful flair
Free Returns & Free Shipping Over $35
Over 2,000 5-star reviews from pros and home cooks