Shake up your kitchen routine this Back-to-School season with this bundle of your favorite tools in miniature, designed to fit little hands. Save 20% on bestsellers with this bundle.
🔹 Free Returns & Free Shipping over $35
Notify Me When Available
Dishwasher Safe

BPA & BPS Free
Satisfaction Guarantee

Heat-resistant to 550°F

Platinum-grade Silicone
Details

These tools may be small, but they are a mighty way to introduce all the family to the joys of cooking and baking. Try new recipes, make a mess, and get creative together! Your little ones are sure to love sharing meals, snacks, and treats they've made with their own hands.

- Our bestselling tools in miniature, ergonomically designed to fit small hands
- Stir sauces, ice cupcakes, and mix ingredients with the Mini Spatula
- Scoop and scrape frosting, fold omelets, and serve yogurt with the Mini Spoonula
- Sturdy fiberglass core won't bend or snap if family kitchen time gets exciting!
- Unique unibody design resists stains, odors, and microbes
- Free from chemicals, toxins, heavy metals, and BPA & BPS
- Safe to use in the dishwasher, oven, & fridge/freezer, and on the stove-top
- Heat-proof to 464°F; heat-resistant to 550°F
- Materials: 100% platinum-cured, pharmaceutical-grade silicone; fiberglass core

The 8-Piece Mini Bundle includes:
- Mini Spatula in Sprinkles (8.3" L x 1.4" W x 0.5" H)
- Mini Spoonula in Teal (8.3" L x 1.8" W x 0.5" H)
- Mini Spatula in Slate (8.3" L x 1.4" W x 0.5" H)
- Mini Spoonula in Navy (8.3" L x 1.8" W x 0.5" H)
- Mini Spatula in Mint (8.3" L x 1.4" W x 0.5" H)
- Mini Spoonula in Dark Green (8.3" L x 1.8" W x 0.5" H)
- Mini Spatula in Red (8.3" L x 1.4" W x 0.5" H)
- Mini Spoonula in Light Pink (8.3" L x 1.8" W x 0.5" H)

Use & Care

Dishwasher safe
Stain, odor, and microbe resistant
Heat resistant to 550°F
Shipping & Returns

We ship to the 48 contiguous U.S. states. We're not currently able to ship to Alaska, Hawaii, or internationally.
We offer free standard shipping on orders over $35 with a 30 day free return/exchange policy!
Orders usually take 1-2 business days to process in our warehouse, and shipping time will vary depending on shipping address and speed, but in general should take 2-7 business days.


A Size for Every Recipe
Whatever recipe you're making, our best-selling Spatulas will help you get it just right. The Ultimate is your go-to for mixing in bowls and pots, the Skinny is perfect for maneuvering tall, thin jars, and the Mini is made for scooping hard to reach corners or frosting sweet treats.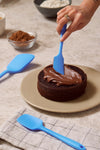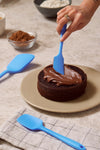 Your Best Friend in the Kitchen
With durable, easy-to-clean, BPA & BPS-free kitchen tools by your side, you'll be the home chef that gets it right—every time.
Why you'll love GIR in your kitchen
Durable materials to make a difference in the kitchen
Dishwasher safe and easy to clean
Fun colors and patterns add a flavorful flair
Free Returns & Free Shipping Over $35
Over 2,000 5-star reviews from pros and home cooks
Durable materials to make a difference in the kitchen
Dishwasher safe and easy to clean
Fun colors and patterns add a flavorful flair
Free Returns & Free Shipping Over $35
Over 2,000 5-star reviews from pros and home cooks