Make your picnic perfect from start to finish with all your sipping, serving, and storing needs together in one eco-friendly set.
🔹 Free Returns & Free Shipping over $35
Dishwasher Safe

BPA & BPS Free
Satisfaction Guarantee

Heat-resistant to 550°F

Platinum-grade Silicone
Details

What's better than enjoying a delicious meal under blue skies? Having all the tools you need to pack up your leftovers for another picnic! Whether it's stargazing with a bubbly drink, or a full spread for the whole family, you'll dine picnic-perfect with this exclusive set of summertime favorites.

- Go from hot to cold drinks in a snap (and save your teeth & the planet) with Reusable Straws.
- Stand that wine bottle up or lay it flat–low-profile Bottle Stoppers don't leak, drip, or spill a drop.
- Protect food from insects and keep leftovers fresh for later with Stretch Covers.
- 100% pharmaceutical-grade, platinum-cured silicone
- BPA- and BPS-free


3-Piece Picnic Essentials Set in Neutral includes:
- 2-Pack Standard Straw in Boulder
- Bottle Stoppers in Everyday Neutrals
- 6 Stretch Covers Set in Slate (Sizes 2.5", 3.75", 4.5", 5.5", 6.5", and 8.25")



Use & Care

Dishwasher safe
Stain, odor, and microbe resistant
Heat resistant to 550°F
Shipping & Returns

We ship to the 48 contiguous U.S. states. We're not currently able to ship to Alaska, Hawaii, or internationally.
We offer free standard shipping on orders over $35 with a 30 day free return/exchange policy!
Orders usually take 1-2 business days to process in our warehouse, and shipping time will vary depending on shipping address and speed, but in general should take 2-7 business days.


A Size for Every Recipe
Whatever recipe you're making, our best-selling Spatulas will help you get it just right. The Ultimate is your go-to for mixing in bowls and pots, the Skinny is perfect for maneuvering tall, thin jars, and the Mini is made for scooping hard to reach corners or frosting sweet treats.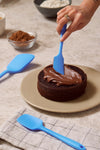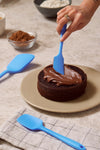 Your Best Friend in the Kitchen
With durable, easy-to-clean, BPA & BPS-free kitchen tools by your side, you'll be the home chef that gets it right—every time.
Why you'll love GIR in your kitchen
Durable materials to make a difference in the kitchen
Dishwasher safe and easy to clean
Fun colors and patterns add a flavorful flair
Free Returns & Free Shipping Over $35
Over 2,000 5-star reviews from pros and home cooks
Durable materials to make a difference in the kitchen
Dishwasher safe and easy to clean
Fun colors and patterns add a flavorful flair
Free Returns & Free Shipping Over $35
Over 2,000 5-star reviews from pros and home cooks